Welcome to our beautiful 'Brukspark', situated in a beautiful area. Close to the population area Horndal and with a nice view over the lake, we are an excellent meeting-point for  associations, private persons and companies in our area.
We are an association as well as some employers, who work on a voluntary basis in order to preserve, to run and to develop Horndal's Works' Park in Southern Dalecarlia.
In the park you find widespread green areas and several buildings. Among other activities we run a café during the summer. Here you also have the opportunity to play miniature golf and boules. Why not hire the work's canteen for celebrations, conferences or meetings?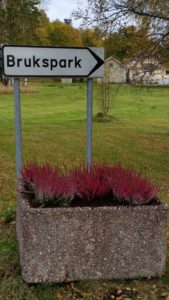 During our annual special 'Bruks-Weeks' our Works Museum, which shows the history of Horndal's Works and place, is open daily.
Activities and attendance of the park is arranged by the association's board and members.
The community of Avesta provides economic aid – which is of vital importance for the survival of the park. Only by applying our energy and being creative we are able to preserve the park, develop activities and make it possible to restore the old buildings!
This homepage shows information about e. g. our area, how to book our rooms and halls, as well as actual events. Try the link 'Boka bygdegård' and you'll find nice photographs, amongst them from a wedding, just to show what a marvelous place our park is for very special wedding.
A look now and then at our homepage gives you all the information you need!
We look forward to welcoming you – both old friends and new visitors!